Chili Con Carne
Copyright 2011 Chili Con Carne Recipe. All Right Reserved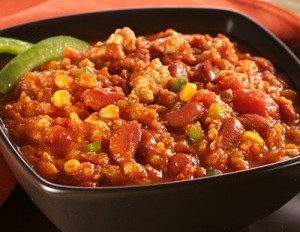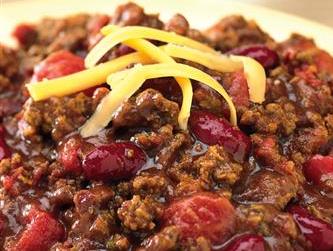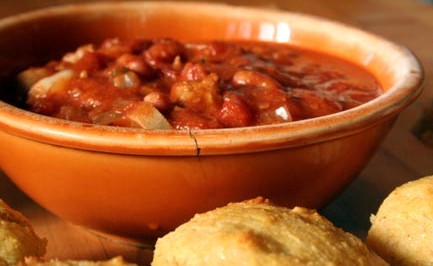 When I was on line and was looking for chilli recipes I saw this chili con carne recipe. This the best chili I have ever tasted it has the right amount of spicy to it and it was so tasty and flavorful.

Also Check Out:

Ingredients

1 Pound Ground Beef

2 Can Kidney Beans, Drained, Rinsed

1 Tablespoon Olive Oil

1 Large Onion, Chopped

1 Orange Bell Pepper, Chopped

1 Can Tomatoes

1 Can Hot Green Chili Peppers

2 Jalapeno Chile's, Seeded, Chopped

1 Can Tomato Sauce

2 Tablespoons Chili Powder

1 Teaspoon Salt

1 Teaspoon Cayenne Pepper

Pinch Of Ground Cloves

Bay Leaf

Water

Sour Cream [Optional]

Chips [Optional]

Shredded Cheese [Optional]

Directions for Chili Con Carne Recipe

- In a pan, cook the ground beef, onions, and peppers until browed

- Add tomatoes, tomato sauce, jalapeno peppers, herbs, and spices

- Bring to a boil

- Redice heat and let simmer for 2 hours

- Add in beans 1 hour into simmering

- Top with Sour Cream, Chips, and Cheese

Chili Con Carne Recipe

2 cans (15 ounces each) red kidney beans or small red beans, drained

1 tablespoon vegetable oil

1 large onion, quartered, sliced

1 green bell pepper, chopped

1 pound ground round

1 can (14.5 ounces) tomatoes

1 can mild green chile peppers

2 teaspoons finely chopped jalapeno chile pepper, optional

1 can (8 ounces) tomato sauce

1 tablespoon chili powder

1 1/2 teaspoons salt

dash cayenne pepper, or to taste

dash ground cloves

Prepare beans unless using cans. Rinse dry beans, cover with cold water, and let soak overnight. Drain, transfer to a large saucepan, and cover with fresh water. Cover and simmer for about 1 hour, or until tender. Drain.

- In a pan, cook the ground beef, onion, and pepper until browned

-Add in tomatoes, tomato sauce, peppers, and seasoning

- Cover and simmer for 1 hour

- Add in the cooked or canned beans and heat