Hot Bacon Chili Recipe
Copyright 2011 Hot Bacon Chili Recipe. All Right Reserved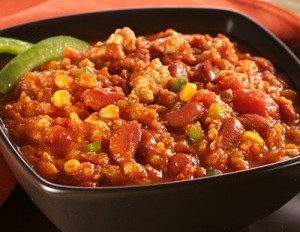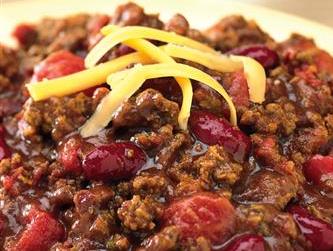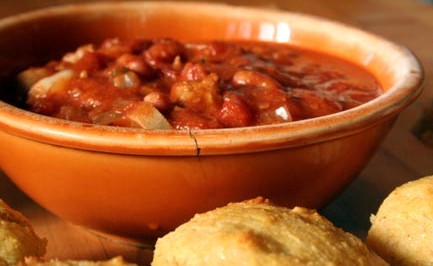 Everyone loved this hot bacon chili recipe! I used ground beef and four pieces of thick bacon. My husband said it was the best chili he ever ate. Then again he does love bacon!

Also Check Out:

1/2-3/4 Pounds Bacon, Strips

2 Cups Fresh Shucked Corn

1 Can Kidney Beans

1 Can Red Kidney Beans

1 Can Tomatoes

1 Large Onion, Chopped

1 Orange Bell Pepper, Chopped

2 Tablespoon Chili Powder

1 Teaspoon Cayenne Pepper

1 Teaspoon Ground Cumin

1/2 Teaspoon Garlic Salt

1 Cup Shredded Cheddar Cheese

Sour Cream [Optional]

Chips [Optional]

Directions for Hot Bacon Chili Recipe

- Cook the bacon until crispy

- Remove bacon and add vegetables into bacon fat

- Saute the vegetables

- Add in the corn, beans, tomatoes, spices, and herbs

- Bring to a boil

- Reduce heatand simmer for 30 minutes

- Top with cheese and crumbled bacon

Hot Bacon Chili Recipe

2 slices thick-cut bacon, finely chopped

1 large onion, finely chopped

1 large garlic clove, minced

1 1/2 pounds lean ground beef

1 tablespoon plus 1 1/2 tsp. chili powder

1 1/2 teaspoons ground cumin

1 1/2 teaspoons smoked Spanish paprika (see Notes)

1/2 teaspoon to 1 1/2 tsp. cayenne pepper

About 1 tsp. salt

1 can (14.5 oz.) crushed fire-roasted tomatoes (see Notes) or regular crushed tomatoes

1 can (8 oz.) tomato sauce

1 cup beer (India Pale Ale or pilsner)

1 teaspoon Worcestershire

1 can (14.5 oz.) pinto beans, drained

Sour cream, sliced scallions, and/or grated cheddar for topping

1. In a large pot, cook bacon, stirring until it just begins to brown, about 4 minutes. Add onion, lower heat to medium, cover, and cook, stirring occasionally, until translucent, 4 to 7 minutes. Uncover pan, stir in garlic

2. Increase heat to medium-high and add ground beef; break it up with a wooden spoon and stir gently until it loses its raw color, 6 to 8 minutes. Stir in spices and 1 tsp. salt and cook 1 minute. Add tomatoes, tomato sauce, beer, and Worcestershire and bring to a boil. Reduce heat to medium-low, cover partially, and cook 30 minutes.

3. Add beans and cook 10 minutes, uncovered. Season to taste with additional salt.